What is GovCon Marketing?
What is GovCon marketing, and how can it help your business? Government contractors face a unique set of challenges when it comes to acquiring new customers. That's where GovCon marketing comes in: an innovative, specialized marketing strategy tailored specifically to the needs of government contractors. With Focused Image's strategic approach to GovCon marketing, your business can have an edge over your competition while tapping into this lucrative market. Let's explore what GovCon marketing entails and how Focused Image can help you reach new heights with your government contracting efforts.
Understanding GovCon Marketing Services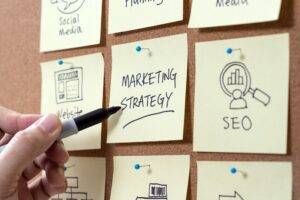 GovCon marketing is focused on helping your business to win government contracts. To do so, Focused Image begins with a comprehensive market analysis that includes research into the needs of government agencies and potential customers. This in-depth understanding of the marketplace allows us to develop an effective strategy for targeting opportunities and leveraging existing relationships to capture them. Our tactics include website promotion, market positioning, reputation management, persuasive proposal writing, content marketing, and social media outreach, as well as traditional advertising. Let's take a deeper look at some of our GovCon Marketing Services!
Website Promotion
Focused Image will develop a website tailored to the specific needs of government contractors. It will showcase your capabilities and experiences with the goal of convincing prospective customers that you are best suited for their project. We also provide content writing services for government proposal RFPs, as well as keyword optimization for better search engine rankings.
Market Positioning
As the government contracting landscape is constantly changing, Focused Image will help your business stay ahead of the competition. We'll develop a comprehensive marketing plan that focuses on positioning your company as an industry leader and innovator, ensuring that you remain competitive in the ever-changing market.
Reputation Management
In order to land new contracts, your business has to have a good reputation in the GovCon market. Focused Image will work closely with you to monitor and improve your online presence, as well as manage any negative feedback or reviews that may arise.
Proposal Writing
Winning government contracts often comes down to having a strong proposal. Let us take care of the writing for you! Our team can provide persuasive, professional content that is tailored to the specific needs of government customers.
Programmatic Marketing
Programmatic marketing is an automated digital auction process that uses bidding to purchase ad space. This tool can be used for cost-per-thousand impressions (CPM) or the price you pay per thousand people seeing your ad.
Programmatic marketing also allows us to target potential customers with digital ads on platforms such as Google Ads, Microsoft Advertising, and LinkedIn. We'll also use analytics to track performance and make sure that you're reaching the right people with your message.
Content Marketing
Content marketing is essential for any business looking to capture new contracts in the GovCon market. We'll create targeted, relevant content that will help your company stand out from the competition and build trust with prospective customers.
Social Media Outreach
Social media has become an essential tool for government contractors looking to reach new customers. We'll create a comprehensive social media strategy tailored to your business, helping you stay top-of-mind with potential clients.
Strategic Branding
Focused Image can also help you develop a strategic branding campaign that will help you stand apart from your competition. Our talented team will create eye-catching visuals and messaging that emphasize the unique qualities of your business.
Digital Marketing
In today's digital age, it is essential for businesses to have a robust online presence. Focused Image will help you create and manage a comprehensive digital marketing plan that incorporates email campaigns, website design, and more. We even work closely with a team of SEO (search engine optimization) specialists to ensure you get the most out of your digital presence!
Traditional Marketing
While digital marketing is essential for success in the GovCon marketing world, it is important to remember the power of traditional advertising. Focused Image can create and manage print campaigns, radio spots, and other methods of reaching potential customers with your business message. We'll work closely with you to determine which type of traditional marketing strategy best suits your needs.
Website Design
Focused Image's team of website designers that are committed to creating a website that accurately represents your business. We'll create a visually appealing, mobile-friendly site that perfectly showcases the services and capabilities you offer government customers.
Video Development
Video is an increasingly popular tool for government contractors looking to engage with potential customers. We'll create a professional, high-quality video that highlights the unique qualities of your business, helping you stand out from the competition.
Media Planning and Buying
Just making ads does not guarantee your company's success. These ads need to be placed strategically in front of the right audience in order to succeed. And in this day and age, there is more competition in the advertising game than ever. Making it even more important to be inventive, dynamic, and tactical when it comes to marketing.
Public Relations
Focused Image will put together a customized public relations strategy that works to get your business noticed by the right people. We'll create content tailored to specific publications and influential figures within the GovCon world, ensuring your message reaches its desired audience.
We understand the challenges of navigating the government contracting market, which is why we strive to provide comprehensive services designed to help your business succeed. From proposal writing and social media outreach to website design and traditional marketing, Focused Image offers everything you need for success in the government contracting industry!
Let Focused Image Help You With Your GovCon Marketing Services
The GovCon marketing landscape is ever-changing. Make sure your business keeps up with the competition by working with our team at Focused Image!
Our comprehensive approach to GovCon marketing can help you acquire new customers, increase sales and improve ROI – all while keeping up with the ever-changing world of government contracting.
With Focused Image, you can be confident that your business is well-positioned for success in the lucrative world of government contracting. Contact us today to learn how we can help you reach new heights with your government contracting efforts.